The Dutch Riveter
The Dutch Riveter launches with a literary cabaret of readings, discussion, live drawing and music in partnership with The British Library.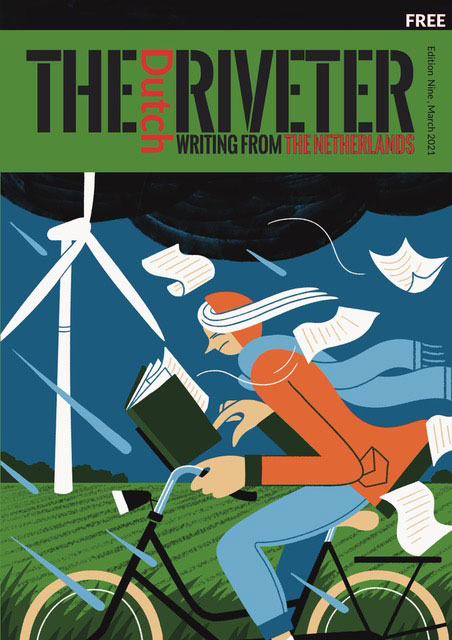 Over the past decade several Dutch writers have won acclaim in the UK – Herman Koch and Geert Mak among them – but there are many new poets and prose writers ready to burst onto your bookshelves, inspired by the success of Marieke Lucas Rijneveld. Gender, post-colonialism, racism and the future of Europe are hot topics for writers not just in the UK but in the Netherlands too. In this special Dutch edition of The Riveter, you will be able to discover the latest trends in Dutch literature, through extracts, reviews and specially commissioned features.
To mark the launch of The Dutch Riveter-magazine, we bring together three outstanding Dutch writers, Karin Amatmoekrim, Simone Atangana Bekono and Jaap Robben, and the great translator Sam Garrett, to discuss those riveting topics, translation and that new Dutch writing. Hosted by Rosie Goldsmith.
Sam Garrett is a prolific translator of Dutch literature, twice winner of the British Society of Authors' Vondel Prize for Dutch-English translation. In 2012, his translation of The Dinner by Herman Koch became the most popular Dutch novel ever translated into English.
Free and fabulous cabaret launch at 19:00, 17 MARCH 2021
Register here: https://www.bl.uk/events/the-dutch-riveter
Rosie Goldsmith was a BBC journalist for 20 years. Today she is (amongst many things) Editor-in-Chief of The Riveter and Director of the European Literature Network.
Enjoy live music from Vanwyck, a well-known singer-songwriter on the Dutch music scene, in the footsteps of Leonard Cohen and Laura Marling, and live drawing from illustrator and political cartoonist, Henny Beaumont, beloved of Guardian readers and festival-goers.
About the author(s)
Jaap Robben (1984) is a poet, playwright, performer, and acclaimed children's author. You Have Me to Love, his first novel for adults, has received international glowing reviews and is the winner of the 2014 Dutch Booksellers Award, the Dioraphte Prize, and the ANV Award for best Dutch debut. To date...
Find out more...
Simone Atangana Bekono (1991) is a poet and graduated from Creative Writing Artez with her first poetry collected titled How the First Sparks Became Visible in 2016. She won the Poëziedebuutprijs Aan Zee for this collection in 2018. She participated in the 2016 Slow Writing Lab, the talent development programme...
Find out more...
Karin Amatmoekrim (1976) is a PhD-researcher and author of multiple novels, essays and short-stories. Her debut novel Het Knipperleven received much praise for its unreserved approach to death and loneliness. Amatmoekrim continued to publish well-received novels such as Titus (2009), which centralises the struggle between order and chaos and asks...
Find out more...
---