Miek Zwamborn & Michele Hutchison
Join Dutch poet and artist Miek Zwamborn and her translator Michele Hutchison for a conversation about The Seaweed Collector's Handbook, a beautifully illustrated little book that will open your eyes at the seaside. Miek and Michele will be in conversation with Rachel Andrews.
Seaweed is so familiar and yet its names – pepper dulse, sea lettuce, bladderwrack – are largely unknown to us. In The Seaweed Collector's Handbook, this short, exquisitely illustrated portrait, the Dutch poet and artist Miek Zwamborn shares her discoveries of its history, culture and use, from the Neolithic people of the Orkney Islands to sushi artisans in modern Japan. Seaweed troubled Columbus on his voyages across the Atlantic, intrigued von Humboldt in the Sargasso Sea and inspired artists from Hokusai to Matisse. Covering seaweed's collection by Victorians, its adoption into fashion and dance and its potential for combating climate change, and with a fabulous series of recipes based around the 'truffles of the sea', this is a wonderful gift for every nature lover's home.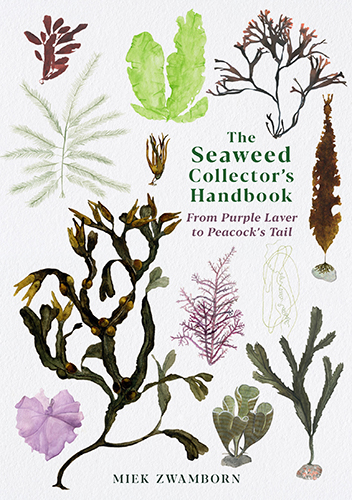 The Seaweed Collector's Handbook is translated into English by Michele Hutchison and in this event we hear from both the writer and the translator.
Michele Hutchison is a literary translator from Dutch and French into English. As a former commissioning editor at various top publishing houses, she has translated more than twenty books from Dutch and one from French. Recent literary translations include La Superba by Ilja Leonard Pfeijffer, Roxy by Esther Gerritsen, and Fortunate Slaves by Tom Lanoye. In 2020, Michele won the Vondel Translation Prize for her translation of Stage Four by Sander Kollaard and the International Booker Prize together with author Marieke Lucas Rijneveld for The Discomfort of Evening. She is also co-author of The Happiest Kids in the World: What We Can Learn from Dutch Parents. Her translation into English of Miek Zwamborn's The Seaweed Collector's Handbook: From Purple Laver to Peacock's Tail was published by Profile Books in June 2021. She lives in Amsterdam.
Rachel Andrews' essays and criticism have appeared or are forthcoming in outlets including the London Review of Books, n+1, Brick literary journal, the Stinging Fly, Longreads, Gorse, Banshee, the White Review, the Irish Times and the Dublin Review. In 2018, she was runner up in the inaugural Hubert Butler Essay Prize and in 2017 was shortlisted for the Fitzcarraldo Essay Prize and the Notting Hill Essay Prize. She won the CDS Documentary Essay Prize in 2013. She lives and works in Cork, Ireland.
About the author(s)
Miek Zwamborn (1974) is a Dutch author, artist and ranger based on the Scottish Isle of Mull. Through installations, performances, books and photography, Zwamborn imbues her source material with a rigorous sense of subjective and the speculative. In this way, her work not only traces the lives of her subjects...
Find out more...
---