Nuala O'Connor & Connie Palmen
Join Irish writer Nuala O'Connor and Dutch writer Connie Palmen for a discussion about their historical fiction novels based on the lives of real people. Nuala's novel Nora tells the story of Nora Barnacle whilst Connie's novel Your Story, My Story is the story of Sylvia Plath and Ted Hughes from his perspective. Nuala and Connie will be in conversation with Martina Devlin.
In 1963 Sylvia Plath took her own life in her London flat. Her death was the culmination of a brief, brilliant life lived in the shadow of clinical depression—a condition exacerbated by her tempestuous relationship with mercurial poet Ted Hughes. The ensuing years saw Plath rise to martyr status while Hughes was cast as the cause of her suicide, his infidelity at the heart of her demise. For decades, Hughes never bore witness to the truth of their marriage—one buried beneath a mudslide of apocryphal stories, gossip, sensationalism, and myth. Until now. In this mesmerizing fictional work, Connie Palmen tells his side of the story, previously untold, delivered in Ted Hughes's own uncompromising voice. A brutal and lyrical confessional, Your Story, My Story paints an indelible picture of their seven-year relationship—the soaring highs and profound lows of star-crossed soul mates bedeviled by their personal demons. It will forever change the way we think about these two literary icons.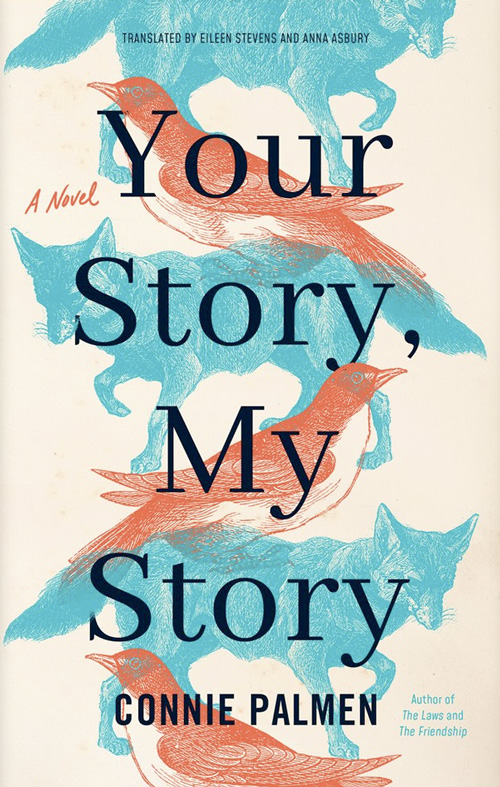 In Nuala O'Connor's Nora, Nora Barnacle is a twenty-year-old from Galway working as a maid at Finn's Hotel in Dublin, when she meets a young James Joyce on a summer's day. She is instantly attracted to him, natural and daring in his company. But she cannot yet imagine the extraordinary life they will share together. All Nora knows is that she likes her Jim enough to leave behind family and home, in search of a bigger, more exciting life. As their family grows they ricochet from one European city to the next, making fast friends with the greatest artists and writers of the age as well as their wives. They are brought high and low by Jim's ferocious ambition. But time and time again, Nora is torn between their intense and unwavering desire for each other and the constant anxiety of living hand to mouth, often made worse by Jim's compulsion for company and attention. So, while Jim writes and drinks his way to literary acclaim, Nora provides unflinching support and inspiration, sometimes at the expense of her own happiness, and especially at that of their children, Giorgio and Lucia. Eventually, together, they achieve some longed-for security and stability, but it is hard-won and imperfect to the end.
Nuala O'Connor is a novelist, short story writer and poet, and lives in Co. Galway with her family. She is the author of four previous novels, including Becoming Belle (2018) and Miss Emily (2015), a reimagining of the life of Emily Dickinson, and six short story collections, her most recent being Joyride to Jupiter (2017). She has won many prizes for her short fiction including the Francis MacManus Award, the James Joyce Quarterly Fiction Contest and the UK's Short Fiction Journal Prize. Nuala's work has also been nominated for numerous prizes including the Edge Hill Short Story Prize, the Kerry Group Irish Novel of the Year Award, the Irish Book Awards Novel of the Year and the International Dublin Literary Award. She is editor-in-chief at flash e-zine Splonk. Nuala's latest novel Nora was published by New Island Books on 10 April 2021.
Martina Devlin is an author, journalist and podcaster. She has written 10 books, including the historical novel The House Where It Happened, and a short story collection, Truth & Dare: Short Stories about Women Who Shaped Ireland. One of her stories, about Countess Markievicz, was adapted as a play, What Would the Countess Say? Prizes include the Royal Society of Literature's V.S. Pritchett Prize and a Hennessy Literary Award, and she has been shortlisted three times for the Irish Book Awards. Her podcast is called City of Books, in partnership with Dublin UNESCO City of Literature and MOLI, the Museum of Literature Ireland. Martina writes a weekly current affairs column for the Irish Independent and has been named National Newspapers of Ireland commentator of the year. She is a PhD candidate at Trinity College Dublin researching the writers Somerville and Ross, and her novel about Edith Somerville will be published by The Lilliput Press in early 2022.
About the author(s)
Connie Palmen (1955) is an author, philosopher and expert of Dutch literature and language. Her first novel De wetten (The Laws, 1991) became a bestseller and established her name as a writer. Her two subsequent novels De vriendschap (The Friendship, 1995) and I.M. (1998) followed her debut onto the bestsellers...
Find out more...
---