New Dutch Writing is a new high-profile promotional campaign by the Dutch Foundation for Literature to promote Dutch writing in translation in the UK and Ireland and to nurture the next generation of translators.
It includes fiction, non-fiction, graphic novels, children's and poetry books, celebrating the work of translators and capitalising on the burgeoning interest in international literature among UK readers while engaging them in a stimulating, cross cultural debate. The campaign launched in July 2019 and continues through 2020 into 2021 and includes over 70 author events at a range of festivals and literature venues nationwide, featuring Dutch writers in conversation with their British counterparts. Read more...
---
Jan Rothuizen
For New Dutch Writing visual artist Jan Rothuizen imagined what a Dutch Writers' House would look like. From classic fiction writers like Gerard Reve to children's books authors Annet Schaap and from non-fiction bestseller Rutger Bregman to International Booker Prize nominee Marieke Lucas Rijneveld, they all live in the house filled with over 25 Dutch authors. In his own distinct style Jan Rothuizen, author of The Soft Atlas of Amsterdam, provides a new way to look at Dutch writing, which will also feature in the Summer Books edition of the London Review Of Books.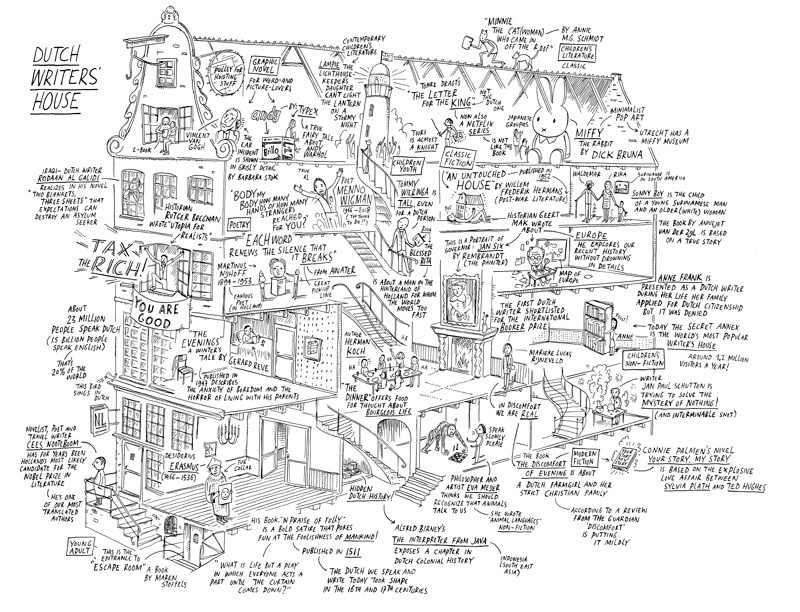 ---
---