The Number Bias – Sanne Blauw In conversation with Professor Wyn Morgan
Numbers dictate our lives – from school grades to the economy. Econometrist Sanne Blauw explains why figures are not as objective as they seem.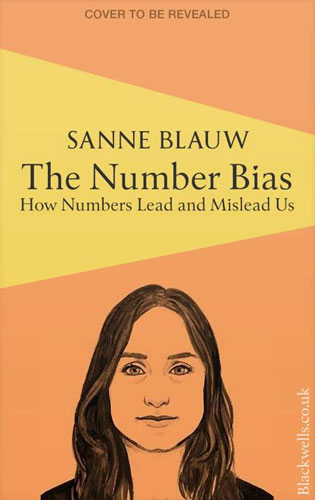 From the numbers that govern our health to statistics used to wield huge power, The Number Bias offers a myth-busting reassessment of the statistics we are fed. Sanne Blauw is the numeracy correspondent for Dutch online news site and publisher De Correspondent.
"This book will be a total eye-opener for thousands of people. Sanne Blauw is the maths, economics and history teacher that everyone wished they'd had" Rutger Bregman
Wyn Morgan is Professor of Economics and Vice President for Education at the University of Sheffield
Presented at Off the Shelf Festival on 21 October, 7.30pm. You do not need to book for this event. Simply click on the Off the Shelf webiste and clock on the link https://www.offtheshelf.org.uk/event/the-number-bias-sanne-blauw/ The event will go live 30 minutes before start time
Books, including selected signed copies or signed book plates are available through our Festival Bookseller Blackwell's. Please e-mail sheffield@blackwell.co.uk or phone 0114 278 7211 or visit the shop at Jessop West, 1 Upper Hanover Street, Sheffield, S3 7RA
All books featured during the festival can also be ordered through the website blackwells.co.uk
About the author(s)
Sanne Blauw (1986) has an MSc in Econometrics and completed her PhD in 2014 with the dissertation 'Well-to-do or Doing Well', on income inequality, trust and happiness. But, she asked herself, can you measure happiness? This question launched her career in journalism. She became Numeracy Correspondent for De Correspondent, with...
Find out more...
Tags
---