I Wish Book Talk
Daniel Handler aka Lemony Snicket will host a book talk for I Wish. He will share his reflections on the work, and also on the creations by Takoma Park Education Campus' fifth graders who created poems and drawings inspired by I Wish.
This month's DC Family Reads is I Wish which was written by Toon Tellegen, illustrated by Ingrid Godon and translated from the Dutch by David Colmer.
DC Family Reads is a DC Public Library literacy program that complements DC Reads, featuring a book that families can enjoy reading, discussing and doing related activities together. This month's book with 33 poems and intriguing portraits is a 2021 Notable Book of Children's Poetry by the National Council of Teachers of English.
The event will take place at 5.30pm UK time on Tuesday 6 April.
More information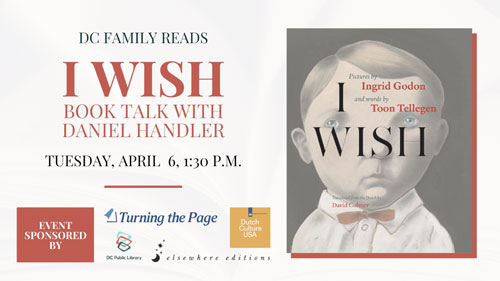 About the author(s)
Toon Tellegen (b. 1941) became famous primarily for his poetic, philosophical animal stories about Squirrel, Ant, Mole, Hedgehog and the other animals, who are carefully trying to find their way in an incomprehensible world. However, his extensive oeuvre also includes fairytales, children's books and poetry and prose for adults. Tellegen...
Find out more...
Tags
---