BCLT Summer School
The Dutch Foundation for Literature supported ten translators to attend the 2020 BCLT Summer School in July. One of them, Jenny Watson, wrote a blog about her experience.
The BCLT literary translation summer school had been on my bucket list for years. It's the event in the UK translation calendar that everyone knows about (and how a lot of translators into and out of English know each other). This year I was determined to go, and applied, little knowing that the Letterenfonds – Dutch Foundation for Literature– was going to sponsor the whole Dutch-English workshop [insert gif of Kermit waving his arms wildly for joy]. It was online for the first time ever, which was a big change from the picturesque setting of Norwich, but after a swift test run of all of our technology, we were away.
The text we were working on was Sanneke van Hassel's short story 'Belinda' – you can read the results of our work below – and we wrote the translation literally together (a new experience for me). Michele Hutchison, our mentor and teacher for the summer school – asked us not to translate it in advance and instead we worked on paragraphs at a time in groups and reviewed what we had written as we went.
Now, anyone who, like me, is an old lag when it comes to literary translation workshops will know that getting translators to agree is like herding cats, so this approach was bound to be a question of producing a text we all broadly liked, with sections that we viscerally hated (nobody talk to me about wainscoting). But this was the beauty of the approach. We were confronted with our regionalisms, our biases, our cultural and even emotional baggage as translators, with what we read and watch, how we enjoy and savour the English we speak and what matters to us when we're bringing a foreign text sometimes kicking and screaming into our own language. The birth was beautiful and intense, we celebrated with bubbly – or was it Prosecco, or champers, or fizz? – and we made fast friends. We also heard people from around the world speak about their joy in literature and share their experiences of translation at a time where this community was more important than ever. But ask a literary translator where they learnt their craft and odds on they'll answer: 'in an argument'.
Jenny Watson (2020 participant)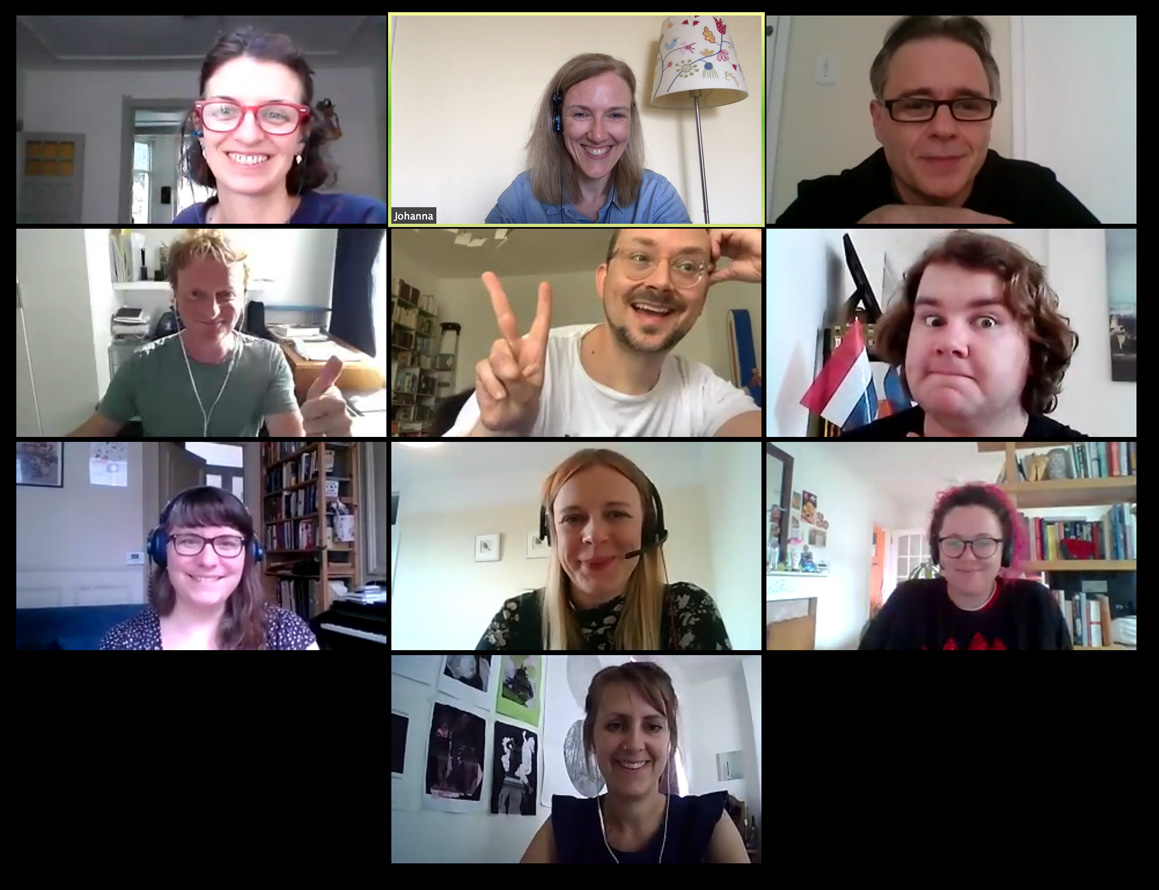 Belinda, by Sanneke van Hassel, translated by the 2020 BCLT Summer School participants: Jenny Watson, Johanna McCalmont, Danny Guinan, Joanna Britton, Laura Spencer, Scott Emblen-Jarret, Florian Duijsens, Giovanni Andrew Vinti, Winnie Smith, Sophie Atkins. All mentored by Michele Hutchison.
All the seats in the train are taken, I sway clumsily along the aisle. With one hand I steady myself against a seat back, in my other I'm holding my novel open on the page I'm planning to read from. I mouth the words, making mental notes of the pauses.
Having squeezed my way out of the train through the commuters, I grab a slice of pizza in the concourse under Amsterdam Centraal. Outside the station, the taxis jostle for position. I don't like wasting money, so I take the tram.
Often when I do events, I end up going alone. 'You have a nice night in', 'Don't worry about it', 'Really, no need to come', I hear myself saying to my boyfriend Marc. I check my phone to see if he's been in touch. No sign of any missed calls or messages. He's got his daughter tonight and probably doesn't want to be disturbed.
The studio is located in a theatre. Its foyer is done up like a bar, with faux-vintage panelling and framed photos of previous guests. White floor tiles give it a hint of a football club's changing room. Two men with scruffy hair sit at the bar rolling cigarettes. A girl wearing jeans at least two sizes too small is lounging behind the counter. She leans forward, with some difficulty, and points me towards the door on her left.
Dark red carpeting, coloured spotlights. The air is stale. A handful of people has gathered around the tables in front of a podium the size of two coffins. Up front, an older couple is eyeing the empty stage expectantly. The regular Tuesday-night contributor is already sitting at the table reserved for guests, I recognise him from the back cover of one of his collections. 'If you want anything to drink, just tell them to put it on the tab,' he says.
The host is an aging troubadour from the sixties, with long stringy hair and a purple waistcoat. We shake hands.
'What are you going to read?' he asks.
'An excerpt from my debut novel.'
'You're on third.'
'Perfect.'
I would have liked to get it over with quickly, but there are two writers ahead of me. I'll be too nervous to listen to them now. I text Marc, 'On air at 9:45. 74.7FM. X'. I suddenly feel like it's bad luck if he doesn't call before I go on.
The poet who's on second is called Femke de Boer. She's the same age as me and has flaming red hair. Dark circles gleam under her glasses, and there's an impressive pile of work in front of her. 'I'm still not sure what to read,' she says, swishing a tea bag in her glass, 'I've got somuch to choose from.'
Sitting next to her is a skittish young man. He introduces himself as Vladimir and says he designed her website. 'I always like to come along to readings.' He goes off to get a herbal tea for me. The tea sloshes over the rim of the glass. 'Sorry.' Turning beetroot, he sits back down.
The studio doors fly open, a pale man comes running in, his coat-tails flapping like bat's wings. It's the Flemish poet who'll be closing the show, Peter Crydecoeur or Blanchefleur or something like that. He produces a calligraphic pen, swirls a dedication, and hands his latest collection to Femke with a flourish. 'I'm so sorry, I haven't many author's copies left,' he tells me.
The show opens with a bunch of chubby lads singing sensitive songs. Music that sounds like stuffy rooms and two weeks' worth of dirty dishes. Then the Tuesday-night guy climbs onto the stage. The room snickers in anticipation. He slings his sentences into the audience skilfully, anticipating when to hold for laughter.
It's Femke's turn next. She announces she won't be reading poetry but rather 'prose miniatures', short texts written in the small hours; she's been having trouble sleeping. Her sentences are drawn out, the sound engineer turns up the volume. 'My blood is tired,' she whispers. Everyone sighs. Last week in the paper it said that the average person only gets seven hours sleep a night, whereas in the 1950s people used to get a good nine hours. Personally, I like to be in bed by ten if I can. Or I'll get back in for a bit once Marc's left in the morning.
The host waves me on. 'And next up we have the promising young author Josien Marsman from Rotterdam.'
I've been a promising author for more than three years now. On the way up to the stage I stub my toe. My foot throbbing, I reach the lectern and peer into the room. The man in the front has dozed off, and his wife tries to make up for it by leaning forward attentively. I open my debut novel, Snowstorm. In the book, the province of Drenthe gets snowed in for a week and life goes back to the 1950s: Snakes & Ladders on the kitchen table; a plate of tea lights the only source of warmth; tensions between family members rising. I read an excerpt in which Mother brings out a basket of walnuts from the barn, but when they crack them open, the shells turn out to be teeming with greasy little worms. The four pages fly by in a blur. I stumble through the last few sentences and rush off the stage, giving Femke a weak smile. She stares back impassively.
The Flemish writer steps onto the stage next, passionately flinging his poetry into the room. Hurricanes and shipwrecks crash against the carpeted walls. To signal his grand finale, he frantically flaps around a rubber bat he's conjured from his inside pocket. The audience bursts into applause. While the band plays another song, I check to see whether Marc has messaged me.
Femke leans over and whispers that she thought it went slightly better than the last time she heard me read. So, she'd also been on that literary river cruise in Limburg, where I got so seasick I couldn't make it past the first three paragraphs.
The show's final half hour is taken up with a pre-recorded story set in a fly-swatter factory. The sound engineer presses play, the fluorescent lights flicker on and the barmaid comes round with finger food. The crew descends on the mini pizzas and soggy spring rolls. The couple in the first row linger in their seats, looking on. Once the rest of the audience has left, they pull on their mackintoshes.
'How do youthink it went?' the presenter asks me, with his mouth full.
'It was OK.'
'Radio is tricky. You should come back another time, but then really go for it,' he says, popping another cocktail sausage in his mouth before he continues. 'Write something wild, the more personal the better. And, just a tip from a professional: keep it short and write in the first person – that always goes down well on the radio.'
The clock on the wall tells me it's past eleven. I pick up my stuff and wave to the others, who are busy discussing national politics and their accountants. The table has been taken over by empty glasses, holding the piles of books and papers hostage. 'See you next time,' I shout as I wave goodbye again. Only Vladimir waves back.
The barmaid hands me a bottle of wine in a presentation casket. Out on the street, I stuff the wooden box into a bin. The bottle fits in my handbag, the top just sticking out. I often spot alcoholics on the Rotterdam metro. They mostly get on in the suburbs, bottles and cans protruding from their bags and jacket pockets. Like they are daring you to talk to them, either out of pity or to ask for a swig.
A small Asian man stands at the tram stop, carrying takeaway boxes in a plastic bag. The number 9 is due in two minutes. On the other side of the road a man is walking his dog. When the dog pisses against a row of bikes, he looks the other way. Two minutes go by, but there's no tram in sight, and seventeen minutes later I'm still waiting, shivering beside the timetable.
Mr. Tuesday Night cycles past, the barmaid with the jeans on his carrier. She's got an arm around his waist. I shrink back into the tram shelter. Twenty-one minutes past. The Asian man turns and slowly starts to walk down the street. His dinner dangling from two fingers, he recedes into the distance. No sign of Marc on my phone. It's windy, the ivy on the houses rustles against the brick. I spot a taxi coming my way and stick out my hand. At that exact moment, Femke and Vladimir ride past on their bikes, waving to me exuberantly. The driver thinks I am waving back at the passing couple and drives on.
Marc's phone rings five times and then goes to voicemail. He'll get back to me as soon as possible, his familiar yet strange-sounding voice tells me. I dial his number again. Maybe he's fallen asleep reading the bedtime story. On my third attempt he picks up.
'Uh-huh?'
'Hi, it's me. I was just wondering… Did you manage to catch it?'
'Sure… hold on a sec.'
In the background, I can hear laughter and a child's voice. Is Julia still up?
'Sounds like someone's having fun.'
'Yeah, they really don't want to go to bed.'
I hear a woman laugh. My heart skips a beat. Maybe it's that director he had a fling with back in the day. Now she's 'just a very good friend'.
'Was it alright?'
'You sounded good,' he says, 'a little rushed at times. Belinda says you've got a proper Rotterdam accent.'
'Belinda?'
'Yeah, we're on the bubbly.'
'Who's we?'
'Mason's mum. He's here for a sleepover with Julia, but he couldn't sleep.'
A loud whoop. 'Who're you talking to?' chirps a boy's voice right next to the phone.
'A friend,' Marc says. 'I'm just talking to a friend.'
'A friend?' I say.
'Mason knows Paulien too, doesn't he? He doesn't understand that kind of thing.'
Marc and Paulien split up more than two years ago. Children don't understandthat kind of thing.
'Well, great.'
'Yeah, listen, I've got to go now. See you tomorrow, maybe.' His voice sounds distant.
'I might not be able to get home. Three trams should've been and gone by now.'
'So go to your sister's then, or stay at a friend's.'
'I've got to be somewhere in the morning.'
'There must still be trains running.' He sounds irritated. 'What do you want meto do?'
'Nothing,' I say, 'I was just wondering if you'd caught the show.'
No response. A cork pops in the background. Marc always keeps a bottle in the bottom drawer of the fridge for special occasions.
'Have a nice night then,' I say.
'You too, and good luck with the trains.'
'Yeah, thanks. And say hi to Belinda.'
He's already hung up. My phone feels hot in my hand. I dial my sister's number. Since the baby arrived she hardly ever picks up anymore. This time is no different.
I put away my phone and decide to start walking in the same direction as the Asian man. There is very little traffic on the road. Poplar trees rustle and sway high above me. I think of Belinda, of the bottle of wine in my bag, of that fundamental loneliness famous authors write about.
The lights are going out in the houses. A woman pours hot milk into a mug, the steam condensing on the kitchen window. Bedtime ritual or is it insomnia?
All of a sudden I spot him, sitting on a park bench, digging into his chow mein with a pair of chopsticks. I pause behind a holly bush. He slurps up the last noodle and tosses the box in a litter bin. Then he calmly unties his shoelaces, folds up a plastic bag and lies down on the bench, his hands tucked between his legs, the plastic bag serving as his pillow.
If you go straight on here, it takes you to the station. I turn into a side street. Along the canal all is calm, old-fashioned street lamps offering little in the way of light. Bare branches are reflected in the water. I wonder how long it will be before the sun comes up, and march briskly on.
Tags
---