New chapbooks
A series of new chapbooks published by UEA-based Stranger's Press is part of the New Dutch Writing campaign. Short works by eight talented Dutch writers who had not yet been published in English have been translated by eight emerging Dutch-to-English translators, mentored by established literary translators. This second blog on the Chapbooks series reveals the experiences of the other four translators.
Danny Guinan was mentored by Michele Hutchison for his translation of Shelter by Sanneke van Hassel.
Born and raised in Ireland, Danny Guinan has been working as a freelance translator from Dutch into English in the Netherlands since 2009. Published translations include Two Forget More Than Oneby Cees van Hoore and How Attention Worksby Stefan van der Stigchel.
To me, the most critical phase of the project was the first round of feedback I received from my mentor, Michele Hutchison. She immediately encouraged me to be brave and not to get hung up on stuff like maintaining the punctuation. She was also quick to nip any long-windedness in the bud. Her guidance provided me with a lot of confidence for my sessions with the author, Sanneke van Hassel, which were mostly about capturing detail and nuance. I also learned how to defend my translation without stepping on the author's toes. Don't be afraid to speak your mind. An invaluable lesson.
The stories in the chapbook are plucked from everyday Dutch life, but are also universal in terms of theme. Curiously enough, I was able to identify as easily with Carlos the Cape Verdean bus driver as with the thirty-something couple mystified by their friends' struggle with their ostensibly wonderful life.
Emma Rault was mentored by Laura Watkinson for her translation of The Dandy by Nina Polak.
Emma Rault is a literary translator from Dutch and German. Lit Hub voted her translation of Rudolph Herzog's Ghosts of Berlinone of the best books of 2019. That same year, she was one of the translators to take part in The Chronicles, the residency project for writers and translators at the Crossing Border Festival in The Hague. In 2017, she received the GINT Translation Prize. She lives in Los Angeles.
Every translation is a dance between precision and looseness – and, I find, a battle with my own impatience, my wanting to have found the right solution to every conundrum yesterday. Laura gave me just the pushes I needed, encouraging me to revisit the sentences that weren't working yet, to tease out musicality from even those passages that seemed to buck against being brought into English. The mentorship made me more rigorous while also bolstering my confidence in my abilities as a translator.
The stories in Nina Polak's The Dandy are acerbic, canny, often quite cerebral explorations of queer love, non-monogamy, and the friction between ideology and the messy reality of human relationships. I very much like their dry wit, and also Polak's gentle eye as she observes her characters' fumbling endeavours. I love the elegance of Strangers Press' previous chapbook sets, and I feel like this bold, punchy book is a perfect fit.
Scott Emblen-Jarrett was mentored by David McKay for his translation of The Tourist Butcher by Jamal Ouriachi
Scott Emblen-Jarrett is an emerging literary translator based The Hague. After participating in The Chronicles programme translating for Radna Fabias, he debuted with his translation of Jules Deelder's poetry collection Transeuropain 2019. He is currently working on his first full-length book, a translation of Roanne van Voorst's Once Upon A Time We Ate Animals.
Over the course of my mentorship the focus was largely on the style (and subsequently the tone) used in Jamal Ouriachi's two short stories The Tourist Butcher (the online myths about one particularly disgruntled local became all too real for a couple visiting Amsterdam) and Tin-foil wrapped memories (a dissected piece of brain gives a psychology student a deeper insight into the human psyche than she expected). Both stories very reminiscent of 1970s horror serial shows à la Tales of the Unexpected, and for me the most important thing was to put across this feeling of suspense in the translation. This involved adding some additional verbal cues not originally in the Dutch text, but which helped to build up the suspense better. The process also gave me a greater insight into the use of punctuation in translation, and a description of Surinamese food in the The Tourist Butcher resulted in an interesting discussion on intercultural translation. Overall the mentorship was an excellent opportunity to work with an experienced translator and a leading author, as well as a great exercise in working to a coordinated schedule.
Moshe Gilula was mentored by Sam Garrett for his translation of Thank You For Being With Us by Thomas Heerma van Vos
Moshe Gilula, born in Israel, was a comics creator, cartoonist and illustrator before emigrating to the Netherlands in 1994. He has been a freelance translator since 2010. His translation of eco-thriller Echo by Thomas Olde Heuvelt will be published by Nightfire Books next year.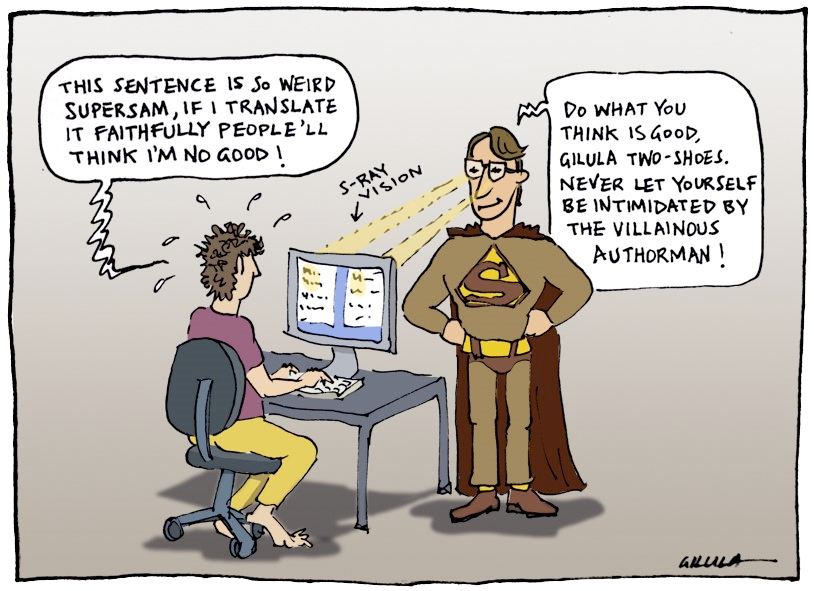 Tags
---