Translator in Residence – ten days in Norwich
I've just started my new role as Translator in Residence, and this position encompasses so much more than just translating, as my first period of residence, ten days in Norwich, revealed.
A weblog by Alice Tetley-Paul
I felt strangely nostalgic returning to Norwich; I spent two years here before I moved up to Northumberland, the first year studying for an MA in Literary Translation at UEA and the second establishing myself as a freelance translator. Everything felt different, yet somehow the same. The first evening, I went for a run past my old flat; a big, glass-fronted gym complex has sprung up next door, but there was still a huddle of women standing outside Mecca Bingo, smoking. This time round, I wouldn't be working from that flat above the accountants, but from a hotel room overlooking the River Wensum, evoking memories of early-morning rowing sessions in all weathers.
The first two days were filled with lively discussions and delicious food. I was one of eight translators who'd been invited to take part in a vice-versa literary translation workshop in the medieval Dragon Hall, home of the National Centre for Writing. The vice-versa set-up was new to me; in the workshops I've attended in the past, all the translators worked in the same language direction, but the aim here was to use the insights of the native language speakers of the source text to assist with the translation process. Our group consisted of four Dutch-English translators, four English-Dutch translators and four workshop leaders.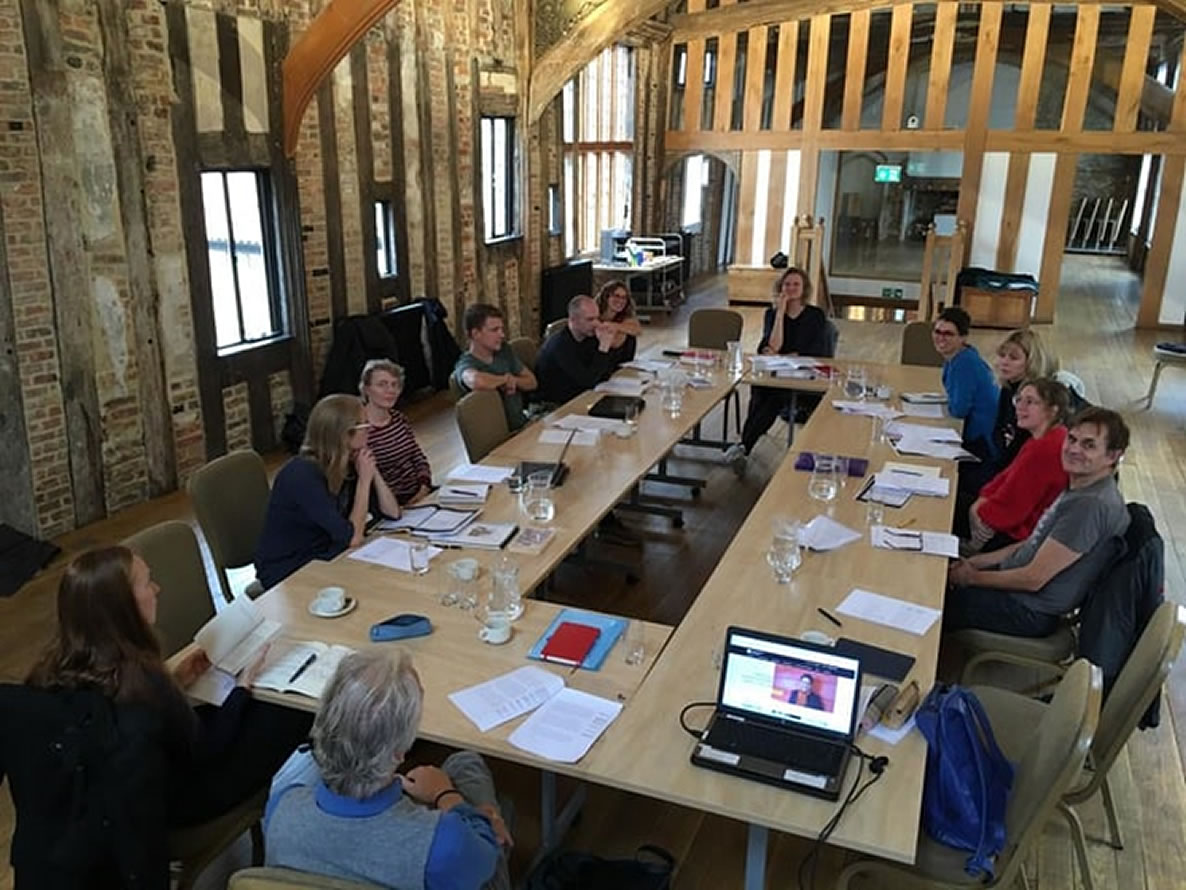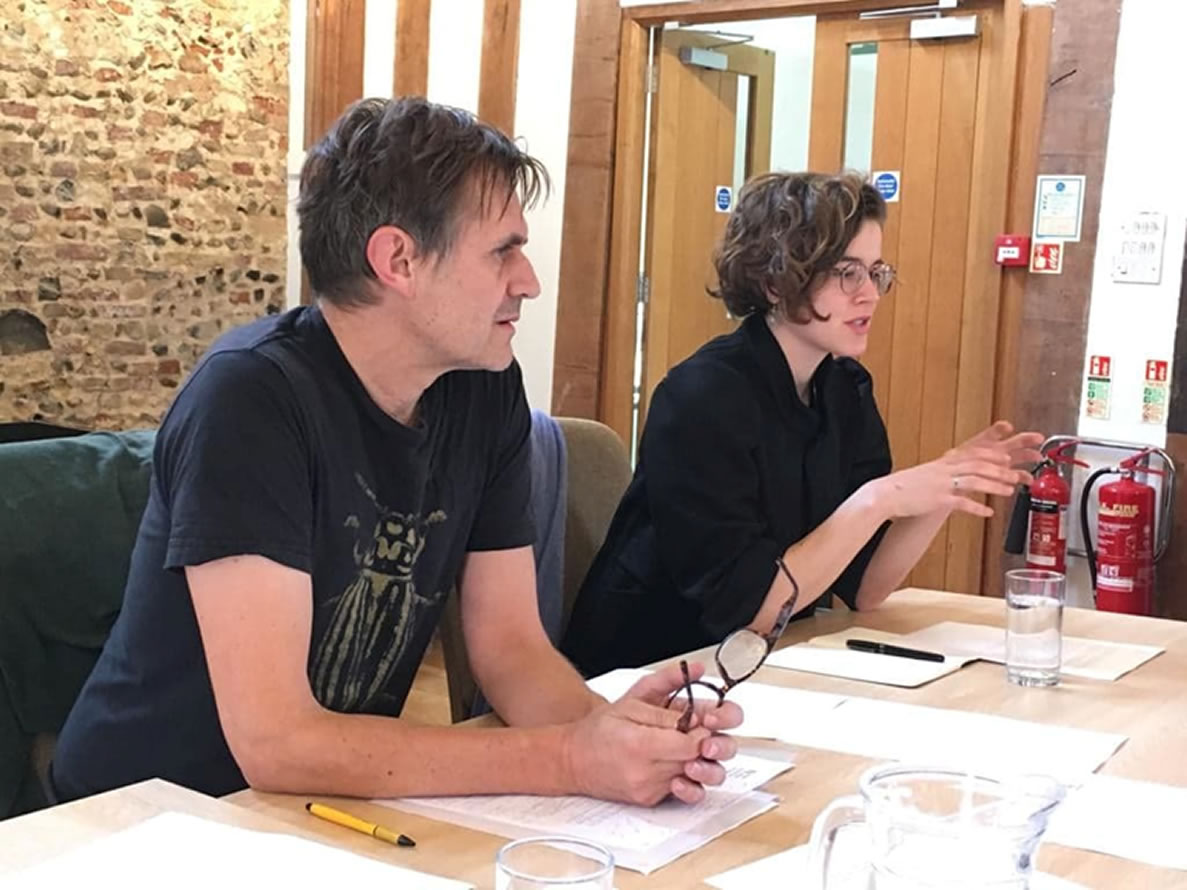 The first day, we worked on a text by Nathan Englander in the morning and a text by Bregje Hofstede (Author in Residence at the National Centre for Writing ̶ more on her later) in the afternoon. The second day, we worked on a text by Graham Greene in the morning and a text by Ilja Leonard Pfeijffer in the afternoon. We'd been sent the excerpts in advance, and it was fascinating to compare the different approaches and choices we'd made. The excerpts were only short, but there was plenty to discuss and it was interesting to see how similar the issues were between the different language groups: 'human being' often poses a challenge to English-Dutch translators, the same way that 'mens' (human being? person? man?) can be problematic for Dutch-English translators.
In the English-Dutch sessions, the native English speakers were asked questions such as: What image springs to mind when you read the word 'Common'? Is it clear that Clapham Common is intended here? And we discussed more general questions such as: Do we, as translators, have a tendency to over-explain?
As is often the case in translation matters, there wasn't always a clear, single answer to the questions; our group consisted of Belgian, Dutch, Scottish, English, American and Australian participants, which added an extra dimension to the discussions! But the conversations were enriching and insightful, often flowing over the sessions into our lunchbreaks and evening meals.
The evaluation on Saturday morning confirmed that the vice-versa set-up, and the workshops as a whole, had been a resounding success. I'd like to extend my thanks to the Dutch Foundation for Literature and Vertalershuis Amsterdam for making all of this possible.
The rest of Saturday was spent strolling around Norwich with some of the other translators. After taking in the market, library and cathedral, we exchanged contact details, set up a WhatsApp group and I waved goodbye to the others, certain our paths will cross again.
Now it was time to turn my attention to the second half of the residency. A few months ago, I'd been asked if I'd be interested in translating a chapbook for a series to be published by Strangers Press next spring. Eight up-and-coming Dutch-English translators would be assigned a text to work on and a mentor to work with. What a great opportunity! Of course, I said 'yes'. I recently found out that my mentor would be Amsterdam-based literary translator Jonathan Reeder and the text I would be working on would be 'Bergje' by Bregje Hofstede.
Her name might sound familiar; I mentioned her earlier on. She's the current Author in Residence at the National Centre for Writing and we worked on a translation of an extract from her latest book, 'Drift' in the vice-versa workshop. The Dutch-English literary translation scene is relatively small and extremely friendly, and it turns out I already knew Bregje; I translated her Chronicles at Crossing Border Festival back in 2014. We were both delighted to be working together again.
For the rest of my time in Norwich, I spent the mornings translating the chapbook, and in the afternoons I met up with Bregje to ask her to clarify any tricky bits I'd encountered. Over a cup of mint tea, she patiently described the exact layout of the six beds in a sleeper train, willingly demonstrated the sounds her boyfriend makes when he huffs and puffs, and explained just how the carrots she snacked on were prepared. These might sound like small points, but getting the author's input was a big help and it was great to spend some time getting to know Bregje a bit better too.
The evenings were spent meeting various people and attending a range of events: Nordic poetry one night, a workshop led by author Meghan Bradbury about reading for writing another, a research seminar about British children's books in Russian… plenty of food for thought. I also met up with Anna Goode from the BCLT, who told me all about a new scheme to train translators to become workshop leaders in local schools, which is something I'm really looking forward to getting involved with over the next few months.
There's a lot going on and there's a lot to look forward to; not just translating, but also meeting, learning, sharing, collaborating. And blogging too, of course, so I can keep you updated on the goings-on of this Translator in Residence.
Tags
---